Queer archives as (book) historical sources: working with Atalanta's archive – By Inge van Vught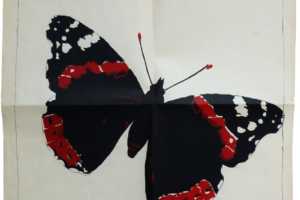 As a bookhistorian, I am well aware that it's tempting to regard archives as neutral historical sources, while they are not. Through researching Atalanta's archive, I became interested in how archives are (re)shaped through archiving practices. I wondered how the 'queerness' of an archive could guide archival practices and maybe even reimagine them.




In 2020 I rode my bike to Rymke and Weia, who run a publishing house called Atalanta in Utrecht. I went there to pick up their archive in my cycle bags and backpack. Knowing this archive is unique, and vulnerable, I was nervous but also excited. Because of the COVID-19 outbreak and the lockdown, I had to execute the research for my thesis at home. Rymke and Weia were willing to lend me their archive, which consisted of approximately 0,5 meters of boxes and folders. Knowing my fellow students at the time struggled with access to sources, I felt even more privileged, because I could leaf through the numerous documents whenever I wanted, even during a pandemic.


Atalanta
In my thesis 'Vlinders kom uit je kokon!' Ontwikkelingen in de vrouwenboekbeweging van de tweede feministische golf weerspiegeld in de activiteiten van uitgeverij Atalanta (1980-) I studied the Women in Print movement and its practices as well as Atalanta's practices as a printer-publisher around the same time.1 Developments within the Women in Print movement of the second feminist wave reflected in the activities of publisher Atalanta (1980-). The Women in Print movement arose at the end of the sixties and traces of it can be found internationally. Feminism flourished at the time, and next to politics and other domains, feminists tried to transform media, a domain that was dominated by men. Within the realm of media, alternative and more radical voices created space for themselves. Feminists started their own bookshops, publishers, printers, and magazines—all from different feminist principles. Atalanta was one of them, starting from a radical feminist and anarchist point of view. They produced a variety of books, leaflets, games and other materials, and are still active to this day.2 Atalanta eventually called themselves anarkafeminist (anarchafeminist) which in their case included a variety of anti-oppressive ideas, like veganism and anti-racism.
Queer archives
Atalanta's ideas can be found through researching their archive, but also in the composition of it. As a researcher, it is important to acknowledge how an archive has been shaped, what has been left out or what politics have formed the whole. Atalanta's archive can be seen as a queer archive, which is explained by librarian Alana Kumbier as 'a disruptive, transformational, or oppositional practice designed to challenge normalizing systems and structures.'3 Atalanta's whole practice challenged existing systems in many ways: they were against capitalism as a whole, worked anti-hierarchical and put their principles first. Next to that, Atalanta's archive represents queer history, even though it is not the main objective of their work. Within the radical feminist movement, women mostly dated or partnered with other women. It is often said being a lesbian was a political choice at the time. Rymke and Weia were not only part of the radical feminist movement, but they were partners as well. In their work and archive you can trace back their fluid and dynamic perspective on gender, sexuality and relationships.

Working with Atalanta's archive, two things stood out to me that link the archive to Kumbier's definition of queer archives. First of all, I noticed that Atalanta's archive was a reflection of multiple practices, including their practices as a printer-publisher, their writing, philosophy and music. Some folders consist of opinion pieces in newspapers, magazines and other media, written by Rymke or Weia.4 Together, this 'output' reflects Atalanta's use of language, media platforms, and their own media to engage with others or propagate their ideas. Secondly, this archive raises many questions, that in some cases could only be answered by Rymke and Weia, because they 'lived it'. This embeddedness of the archive into the personal lives of Rymke, Weia, and others, makes the archive unique and vulnerable. As gender and queer theorist Jack Halberstam puts it: 'The archive is not simply a repository; it is also a theory of cultural relevance, a construction of collective memory, and a complex record of queer activity.'5 When I was asking Rymke and Weia about Atalanta, I found that the archive reflected memories of both Rymke and Weia who experienced things together, but also separately. Its embeddedness in queer history, the radical women's movement, and the focus on output of ideas and text make this archive interesting, but also challenging to study.

The queer archive is embedded in the experiences and motivations of the person or persons that created it, which Kumbier calls 'affective dimensions of archives.'6 In my research, this means that I keep finding information about the archive outside of it. In interviews and conversations I had with Rymke and Weia after my thesis, I drew new connections between the archive and its history that I didn't, or couldn't make before those conversations took place. For example, a little booklet that Rymke made for her living group suddenly becomes part of the history of making De egeltjes (Hedgehogs), the first book that was published by Atalanta in 1983.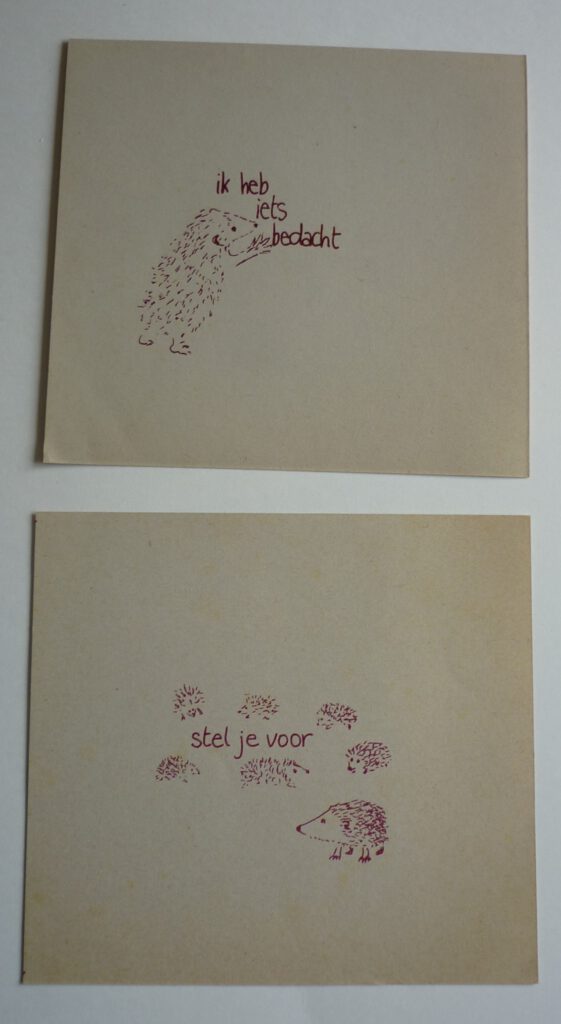 Conclusion
After finishing this research, I often find myself wondering where Atalanta's archive will eventually end up, and how and by whom it will be further studied. I feel a certain kind of responsibility for making Atalanta's story and archive visible. This led me to write a book about my research (which is still in progress). In general, this research also gave me some tools for my work with other archives. Researching Atalanta's archive made me realize that archiving as a practice of creating coherence and making archives searchable is not my only motivation for working with archives. I realized that as an archivist, I can secure the 'queerness' of archives like that of Atalanta, by not following standard archival practices, but by maintaining its particularity. This motivates me to keep on working with archives from a less institutionalized entry point. Because in the end, (queer) histories cannot be told if their archives don't reflect them.
About Inge
Inge van Vught (1995) graduated in 2020 from Book Studies at the University of Amsterdam. Their main interests are the Women in Print movement from the 70's and 80's and alternative forms of communication, such as zines. Inge currently works as an archivist at the Allard Pierson.