International conference 'Claude Nourry, dit le Prince. Traditions et innovations dans l'atelier d'un imprimeur lyonnais de la Renaissance'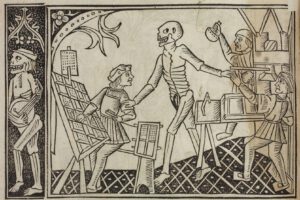 In the context of the project L' "invention" des lettres médiévales, the University Lumière Lyon 2 organises an international conference on the Lyon-based publisher Claude Nourry (c. 1500 -1533).
The participants will discuss different aspects of the production and the strategies of this prolific printer-bookseller, such as the way he made medieval texts available to new publics, his stock of woodcuts and his editions of Renaissance works by local authors. Mostly known for being the first publisher of Rabelais' Pantagruel (1532), Nourry was in fact a key figure in the Lyon book world in a transitional period characterised by profound cultural, religious, economic and technical change.
The conference will take place on 10 and 11 September 2021 in Lyon (MSH Lyon St-Étienne, Salle Marc Bloch, 14 avenue Berthelot, Lyon 7e ar.). The working language will be French. More information can be found here.