'Book culture in the Arab world: an illustrated herbal of the 13th century' – online lezing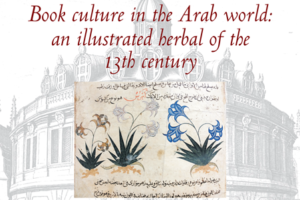 The Oxford Bibliographical Society en Oxford Centre for Islamic Studies organiseren gezamenlijk een online lezing op dinsdag 23 februari.






De Bibliographic Society en Centre for Islamic Studies zijn verbonden aan Oxford University. De lezing wordt gegeven in het Engels:
This lecture by professor Anna Contadini will examine a wonderfully illustrated herbal produced in Syria h. 642 (a.d. 1245). Representative of book production among intellectual circles of the Medieval Arab world, it sheds light on artistic collaboration and scholarly engagement with a major classical text.
This lecture will be held virtually, by Zoom, on 23 February, 6:00 p.m. (Central European Time).
To attend please contact sarah.cusk@lincoln.ox.ac.uk