Old Books and New Technologies: Medieval Books and the Digital Humanities in the Low Countries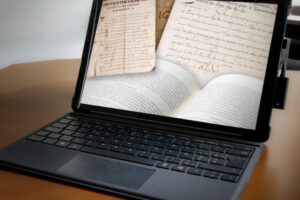 On 6 and 7 May 2021, there will be an international conference on medieval books and the digital humanities in the Low Countries. Working languages will be English, Dutch, and French.
KBR, in partnership with the Campus Condorcet of Paris, the National Library of Luxembourg, the KB national library of the Netherlands, the universities of Ghent, Leuven, Liège, Mons and Namur, and the Vlaamse Erfgoedbibliotheken, will be holding an international conference on medieval books and the digital humanities in the Low Countries. It will bring together representatives from libraries, museums, archives with researchers interested in the 'medieval book  and new technologies'. Particular emphasis will be placed on the methodological dimension of the use of digital humanities.
Background – The Low Countries and medieval books
Over the course of the Middle Ages, what was called the Low Countries developed an original written culture. It is known to us through sources in Latin, in Middle Dutch and in Old and Middle French. At first centred in the Benedictine and Cistercian abbeys of Egmond and Friesland in the North or the Dunes, Ghent and the closely connected chain of Lobbes – Gembloux – Liège in the South, it increasingly became a town phenomenon following the development of the largest and most dense urban conglomeration in the European Middle Ages both with large towns like Ghent, Bruges, Tournai, Liège, Brussels, Antwerp, Leuven, 's-Hertogenbosch, Utrecht and a series of smaller cities scattered over the area, all with their convents, and, consequently, books.
In the 15th century, the production of luxury manuscripts for the Burgundian court and its environment flourished in Bruges, Ghent, Oudenaarde, Brussels and Tournai, which gave rise to the development of an important pictorial culture. At the same time, the presence of towns, cathedrals and chapters all over the area gave rise to the rise of the famous French-Flemish school of polyphony, the works of which often have come down to us in beautifully executed manuscripts.
The urban character of the region in the later Middle Ages was essential in the development and expansion of such phenomena as the Devotio moderna or early Humanism. When the latter was essential in the spread of Latin schools and the amount of 15th-century editions of classical Latin authors in the IJssel region, the first found its expression in a proper network of convents and libraries, which is highlighted by the 'Red Cloister Register', the famous collective catalogue compiled in the early sixteenth century.
All this produced an important heritage of medieval books, manuscripts and incunabula as well as the sources for their history up to the eighteenth century (old library inventories, pre-modern bio-bibliographical sources, accounts of literary journeys, etc.).
For more information, subscription and contact, please visit the website.