Lecture and workshop on the Baffling 'Craft' of the Book of St Albans (1486)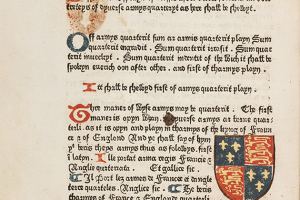 The Utrecht Centre for Medieval Studies (UCMS) and the Technical Art History Colloquium (TAHC) organise on 23 May the joint lecture and workshop: Lecture and workshop: Printing Colour in Late Medieval England. The Baffling 'Craft' of the Book of St Albans (1486).
The dozens of heraldic schemes in the Book of St Albans (printed in 1486) are the first multi-colour prints produced in England. They are often described as the only English colour prints for the next three hundred years. How were they printed? This is the central question in a lecture and workshop held by Dr Elizabeth Savage (University of London) on 23 May.
UCMS Lecture: ink properties
The lecture, held as part of the UCMS lecture series, puts forward that the colour printing inks used for the Book of St Albans were ground to a unique and surprising recipe or formulation, whose unusual properties required the Schoolmaster Printer to modify his woodblocks and his printing technique. It also explains why this previously undescribed approach to printing is attested only in sheets that were issued by the Schoolmaster Printer, with colour inks, in late 1480s England.
TAHC Workshop: reconstructing colour-printing methods
The workshop, hosted by the Technical Art History Colloquium, offers participants the opportunity to reconstruct the Schoolmaster Printer's colour-printing methods, based on extensive reconstructions undertaken jointly with Alan May (Reading University) on a historically appropriate printing press. May has produced replica woodblocks with standard and unusual features for comparison as well as inking balls for this workshop. Participants will be able to take their 'experiments' away with them at the end of the session.
Registration
More information on the programme and the registration can be found here.