Summer School Print Culture in 16th-century Europe in Antwerpen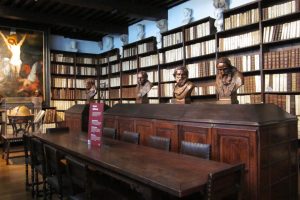 Van 3 tot 7 juli 2017 organiseert de Universiteit Antwerpen de Summer School "Print Culture in 16th-century Europe", een initiatief van de Faculteit Letteren en Wijsbegeerte, de Universiteitsbibliotheek en het Ruusbroecgenootschap in samenwerking met het Museum Plantin-Moretus en de Erfgoedbibliotheek Hendrik Conscience.
Op het programma staan maar liefst 18 workshops en lezingen over de wereld van het zestiende-eeuwse boek met aandacht voor een brede waaier van onderwerpen, zoals bibliografie, boek- en bibliotheekgeschiedenis, digital humanities, grafiek, uitgeversstrategieën of zestiende-eeuwse genres als humanistische tekstedities en bijbels.
Deze Engelstalige Summer School richt zich specifiek tot doctoraatsstudenten die boekgeschiedenis in hun onderzoek willen betrekken. De Summer School mikt op 15 deelnemers.
Voor meer informatie, zie https://www.uantwerpen.be/en/summer-schools/print-culture-in-16-century-europe/
Foto door Cordelia Zukerman
This summer school offers a thorough introduction into the world of the book in the 16thcentury, by expert speakers explaining how books were printed, published, distributed and read in those fascinating times.
Learn more about specific areas of publishing, such as bibles, literary fiction, or humanist text editions  and be part of an intellectual adventure in an exquisite 'bookish' environment, including the world-renowned Plantin-Moretus Museum.